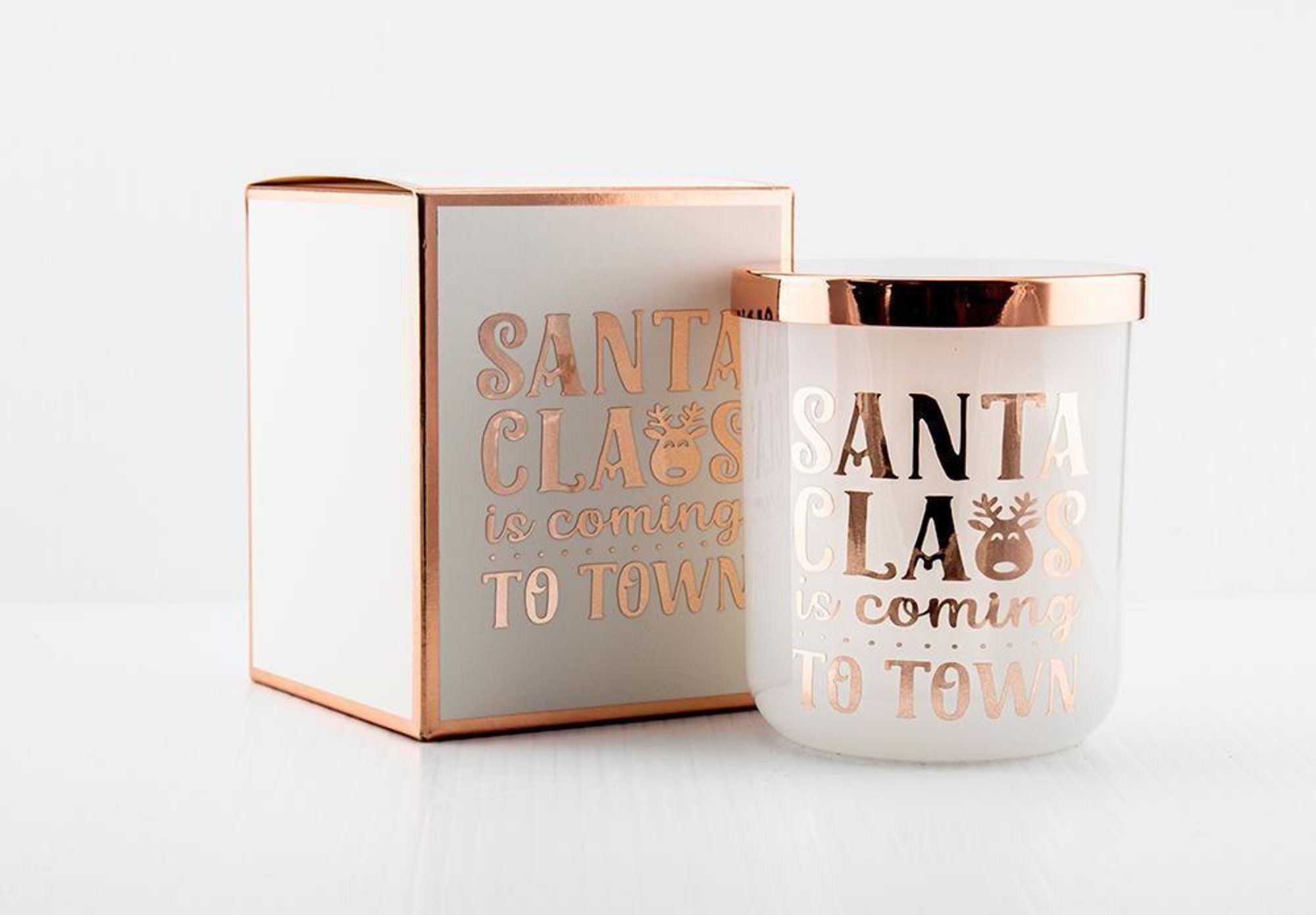 Candle -Luxurious candle Christmas gift-Santa is coming to town
$36.74
Details
About Santa Claus is Coming to Town – Rose Gold
'Tis the season for giving and this luxurious candle gift is the perfect way to share some Christmas love with friends and family!

This premium handmade soy wax candle arrives complete with a matching box and features a beautiful rose gold decal. This soy candle is available in 10 amazing scents; simply select your favourite from the dropdown menu. Make this year's gift sourcing a smooth and satisfying process with this cheerful Christmas gift, guaranteed to impress.

Product Features:
• 260 grams: 81mm wide, 100mm high.
• Matching box: 94mm wide, 118mm high.
• Burn time of 45+ hours.
• Soy wax which is both natural & kosher.
• Vegan & cruelty-free fragrance oils.

Fragrance Descriptions:

➸ CLASSICS COLLECTION
• Clarity | Very Vanilla: Like a favourite old sweater, we slip into the comfort of vanilla year after year. Our Simplicity handmade soy candle adds a touch of cream to classic vanilla to create a more indulgent vanilla scent. Vanilla's versatility lends itself to its timeless status; with one scent you can relax, allure, or simply create a warm welcome for guests.

• Luscious | Vanilla Caramel: All you need is a delectable scent and the right mindset to feel like you're living in the lap of luxury. Our Luscious handmade soy candle features notes of sweet and buttery caramel balanced with rich, creamy vanilla, coconut, and tonka bean. This luscious scent brings the perfect blend of sophistication and warmth to your delightful space.

• Balance | Black Raspberry & Vanilla: Work, errands, friends, family. There are only so many hours in a day, but it's important to take a deep breath - a moment for yourself. Our Balance handmade soy candle features bright, fruity blackberry and raspberry in perfect harmony with pretty white floral notes, creamy vanilla, and a subtle musk. Put the world on pause, if only for just a Moment, with this beautiful, balanced scent.

• Relaxation | Lime Coconut: Sit back, relax, and let your mind take you to some place far, far away. Our Relaxation handmade soy candle is ready to take you away with a tantalising fusion of fresh coconut and lime blended with invigorating verbena and luscious vanilla. Inspire all of the indulgence of a tropical cocktail with this reinvigorated classic.
• Restoration | Fresh Pine, Eucalyptus & Lemon: City life may be exciting, but there's always moments that we feel called to return to our roots. Our Restoration hand poured soy candle balances bright lemon with notes of fresh pine and eucalyptus. Take a walk on the wild side without leaving home.

➸ LUX RANGE
• Indulgence | Almond Vanilla: It's time to discover the luxury that simplicity can bring. Our Indulgence handmade soy candle features the creamy scents of vanilla and milk blended with sweet almond and indulgent caramel. The subtle, sophisticated scent brings a certain warmth to your light, breezy space.

• Elegance | Bamboo & White Lily: Every day deserves something a little special. Creating a special moment can be as simple as lighting a candle. Our Elegance handmade soy candle features the intense but elegant white lily paired with the clean, green scent of bamboo. Bring a touch of the exceptional to everyday with this light but lingering floral scent.

• Vibrancy | Lime, Basil & Mandarin: The right scent can help you begin every day with a clear mind and clear intentions. Our Vibrancy hand poured soy candle brightens and energizes your day with a perfect blend of fresh, zesty notes of lime and mandarin and undertones of herbaceous basil. With its crisp, clean scent there's no better way to invigorate your space and focus your mind.

• Bliss | Lychee & Guava Sorbet: No need to book a first-class ticket across the world to indulge in the vibrant fragrance of tropical fruits. Our Bliss hand poured soy candle features the bright scents of lychee fruit and mixed berries balanced with tart guava sorbet and lime peel; a touch of vanilla creates a subtle richness. Breathe new, brilliant life into dark rooms and dark days with this uplifting scent.

• Enchantment | Patchouli, Amber & Incense: Sometimes you want something a little more sultry than fresh cut roses. Our Enchantment handmade soy candle calls upon warm notes of amber, incense, and a touch of patchouli to create an alluring, sophisticated scent. This complex but inviting scent evokes an air of mystery certain to enthrall all who enter your castle.